By now, you know how much i am obsessed with Gia Bath & Body Works handmade luxury soaps. You can read about another favorite of mine from the brand here. You might have been wondering that why are these soaps so expensive…I just want to throw some light on why handmade stuff is always worth it. First of all, you spend minimum 1500 rupees every month taking care of your facial skin. These soaps are handmade with the purest ingredients and oils to take care of your body skin. It is made without any chemicals and fillers which in the long use, harm our skin.  I think spending 250 rupees a month to take care of your skin is less than cheap in my opinion. Secondly, these soaps are not made in factories with 1000s of bars made in a single go. They provide you a soap in 50 Rupees, obviously they are compromising somewhere on the ingredients and the quality. By paying 250 Rupees, you know you are paying for the right thing. I have one last question..if you had put so much efforts in something and made a luxury handmade nourishing soap all by yourself, would you sell it for 50 Rupees? In my opinion, these soaps are gorgeous and you should always take care of you body and skin with the best things!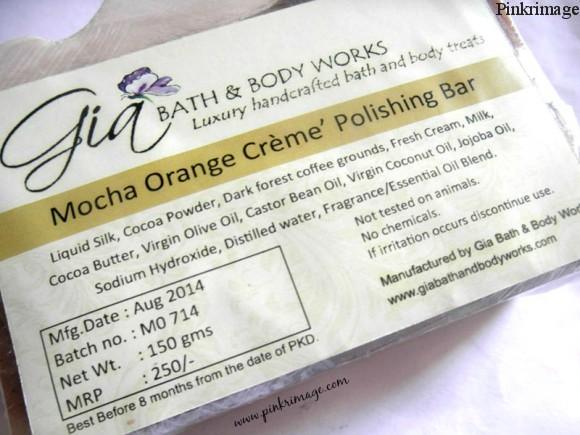 Gia Bath & Body Works Mocha Orange Creme Polishing Bar is a scrub bar with fresh dark forest coffee grounds added to it for removal of dead skin cells. It is a big bar and easily can be used for a month with regular use. It contains no chemicals and preservatives so the shelf life is limited. The ingredients include liquid silk, fresh cream, milk, cocoa butter, olive oil, cocoa powder etc. The bar has the perfect balance of scrubbing bar and moisturizing bar. The scrubbing coffee grounds remove the dead skin cells and the milk and cream and butters moisturize the skin. In fact, i don't feel the need to apply a moisturizer after using this soaps on normal days. Winters definitely need an extra moisturizer.
One thing i think is missing is the orange in the name. I cannot smell any orange fragrance. Secretly this is making me happy because i don't like citrus fragrances during winters and was hoping that the orange is not too strong. This is my second bar of this soap and the original formulation did not have any orange. one more awesome thing about these soaps is that they don't keep melting like other soaps when kept in the bathroom. This makes them last longer.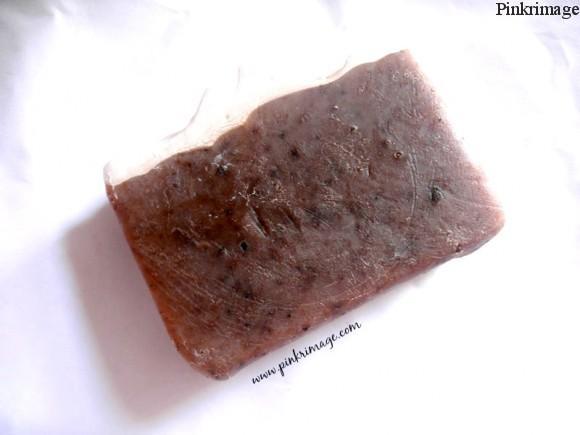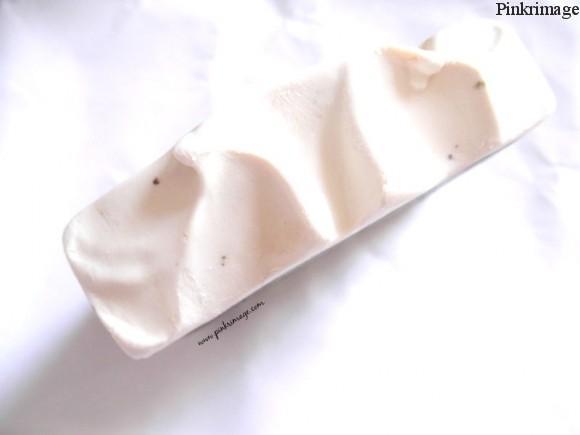 Overall, This is my second bar and the perfect polishing bar for winters. If I had to choose between this and the chocolate scrub i reviewed earlier, i would go with this because this lasts way longer than that and is easier to use.
BTW….Are you excited about GOSF 2014?
In case you have been living under a rock, the great Online Shopping Festival (GOSF) 2014 is round the corner and is starting from 10th December 2014 till 12th December 2014. A GOSF pre-party is happening starting from 25th November with hundreds of E-commerce sites providing Jaw dropping discounts for these 3 days and some very interesting contests arranged for the pre-party period. The pre-party days will also have 14 brands proving you 14 minutes of free shopping each day!! That is the coolest thing which can happen to us right?  Some of the sites of our interest who are participating in GOSF 2014 are Nykaa, Fab Bag, Jabong, The Body Shop, Koovs, Limeroad , Forest Essentials, Luxola and Many more. They also have a 299 corner where great products will be available for 299 INR including delivery and shipping charges. Isn't that great? And it can be even better if you use some discount coupons from the coupon partners.