If you are looking for some metallic liquid eyeshadows for the festive season, Colourpop is launching new Colourpop Supernova Liquid Shadows which are being described as metallic foil eyeshadows which are super shiny and shimmery. Read on further to know more about the Colourpop Supernova Liquid Shadows shades and Colourpop Supernova Liquid Shadows swatches.
Colourpop is releasing five shades in the Supernova liquid shadows. This collection is set to launch on 2nd November 2017 as per the official Instagram account of the brand. Each of these shadows is priced at 7$ which is a great price for the quality we get from Colourpop.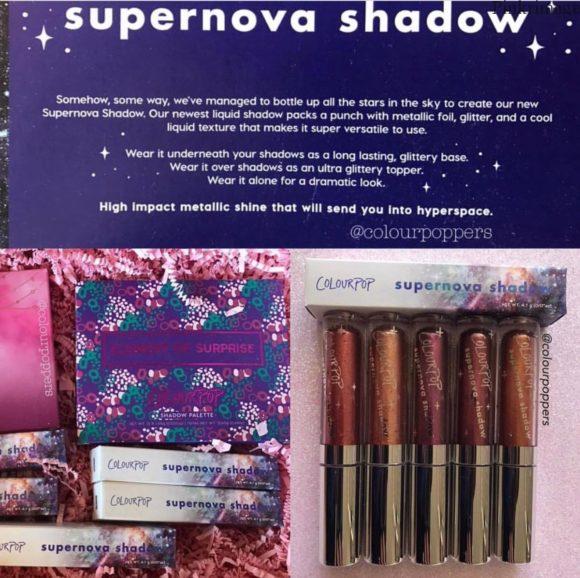 Colourpop Supernova Liquid shadow shades:
The five shades include:
Dragon – Copper Gold
Hard to Impress –  Rusty Red
Walk of Fame – Champagne Gold
Firecracker – Mauve Pink Glitter
Moon Lit  – Purple Shimmer
These shadows have a foiled texture and are super-duper shimmery and glittery. Colourpop says that they can be used as a base coat, top coat, and shadow.
Colourpop Supernova Liquid shadow price:
These liquid shadows are priced at 7$ each and you can buy them from the brand's official website and Sephora.
Colourpop Supernova Liquid shadow Swatches:
Recently, #colourpopfun swatched these beautiful shadows and honestly, i loved all of them.  Check out the swatches of Colourpop Supernova Liquid shadows below:
And here is how the Colourpop eyeshadow looks on the lids:
The texture of these eyeshadows is a little difficult to handle but the staying power is great. The apply a little patchy but that is the problem with liquid metal eyeshadows.
So are you planning to buy one of these Colourpop Supernova Liquid Shadows? Which shade is your favorite?
You can sign up for more Colourpop updates through email on www.colourpop.com.
Images: Colourpop Cosmetics Instagram, #Colourpopfun Instagram page, Mimera929 Instagram page Colourpoppers Twitter handle.