Hello everyone! Lately, I have been making a lot of regret-buys. I purchase something out of pure temptation and regret it the next day. I wonder if that happens to all of you too. Today I am reviewing the Lakme 9 to 5 Eyeshadow Quartet Desert Rose. This palette contains four different shimmery shades, ranging from light to dark. A sponge applicator is also included.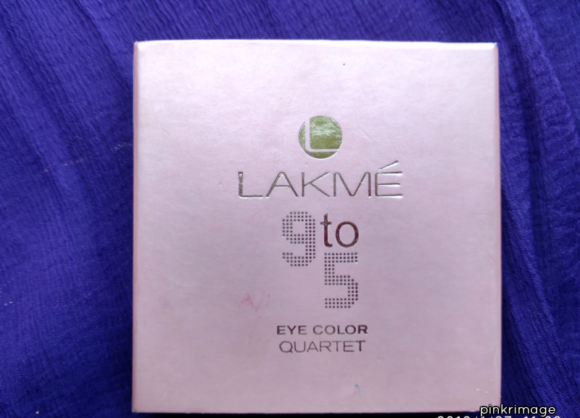 Lakme launched the 9 to 5 range some time back and amongst a host of products, these eye quartets have become quite popular for their affordability and party-like vibe. I came across the shade Desert Rose at my local Lakme store and instantly fell in love with it. The shades looked so rosy and dreamy in the box, I just had to buy this quartet. What a disaster it turned out! Read on to know why.
QUANTITY:
7 grams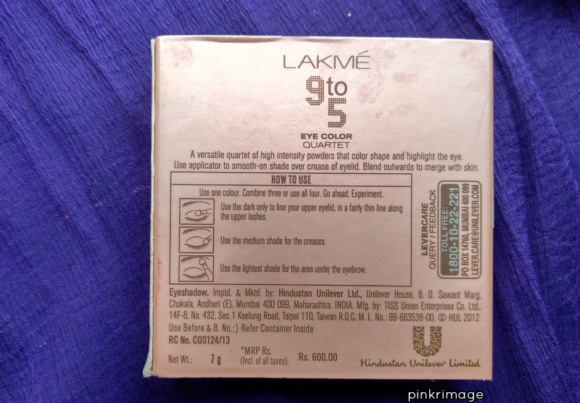 PRODUCT CLAIMS:
Your perfect office eye stylist is here! The versatile colors in the Lakme 9 To 5 Eye Quartet and the high-intensity powders give your eyes a defined finish. The radiant color and shimmer particles shape and highlight your eyes to give you that professional edge. Use the lighter shades for office wear and darker shades for your night look. The special applicator makes it very easy to do your own eyes and you can mix the shades to create new looks every day! Lakme 9 To 5 Eye Quartet has a versatile palette of eyeshadows developed specially for work.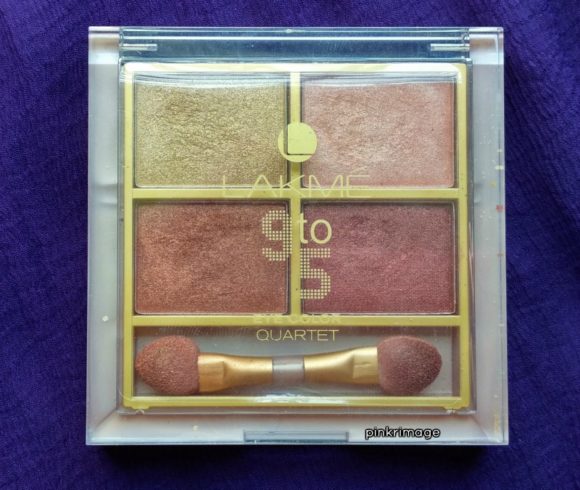 Lakme 9 to 5 Eyeshadow Quartet Desert Rose is packed with key features like:
High-intensity powders with delicate hints of shimmer,

Smooth and silken texture,

4

eye shadows

in 1 palette,

Comes with a sponge applicator.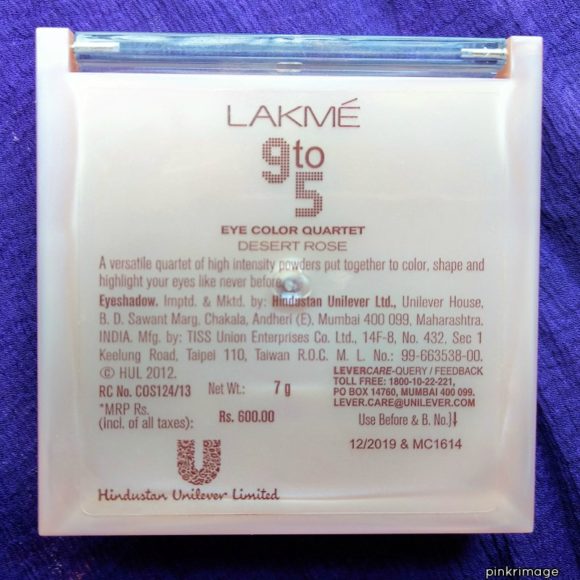 HOW TO USE:
Prep and prime your eyes.

Use the sponge applicator to line your crease in short sweeps. You could also use a tapered eyeshadow brush instead.

Apply the darkest shade nearest to your eye.

Use the lightest shade to highlight your eyebrows

Blend with the applicator or fingers or an angular blender brush.

These fall out a lot, so keep a fan brush handy.
INGREDIENTS:
Not known. It is very disappointing that Lakme has not mentioned the ingredients list anywhere so I don't know what is going onto my eyes.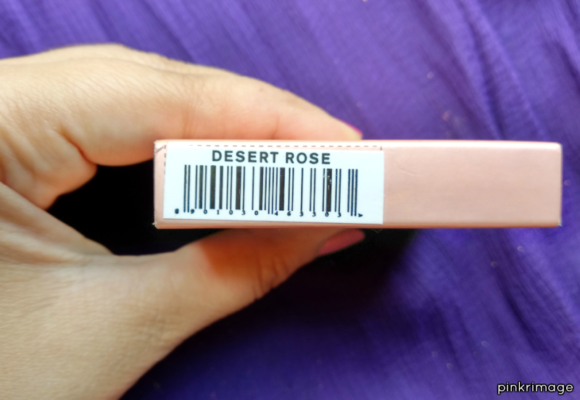 OTHER QUARTETS IN THIS RANGE:
Silk Route, Tanjore Rush, Smoky Glam.
My Experience with Lakme 9 to 5 Eyeshadow Quartet Desert Rose:
Packaging:
These eyeshadows come in a rose gold, paper outer packaging that is open on two sides. Inside lies a plastic box containing the actual product, with a transparent cover so you can see all the shades through it. On the backside of this box, details as to net weight, price, expiry date, etc. are written. I could not find the manufacturing date though.
Texture and pigmentation:
These are powdery eyeshadows which apply quite smoothly on to the eyelids. All the shades have shimmers in them which border on being glittery, thus only meant for weddings or other similar occasions. The pigmentation of each of the shades are as follows:
Shade 1: (top left)
This is a gold shade which looks fabulous inside the box but shows up on the eyelids after five to six swipes only. Then too, it comes across as really light. You can use this to highlight your eyebrows but I wouldn't recommend any other area, like the bridge of your nose or cheekbones, unless you want a glittery look.
Shade 2: (top right)
This is a rose gold shade and the reason why I bought the quartet. I love rosy pinks, whether its lipstick or eyeshadow and once I spot this color, I am instantly taken. This shade looks beautiful in the box so imagine my disgust when this turned out to be a huge letdown. Honestly, this has the worst pigmentation ever. It wouldn't show up anywhere! When I apply this shade, the only thing I see is shimmers and no color. You can probably use it only as a base.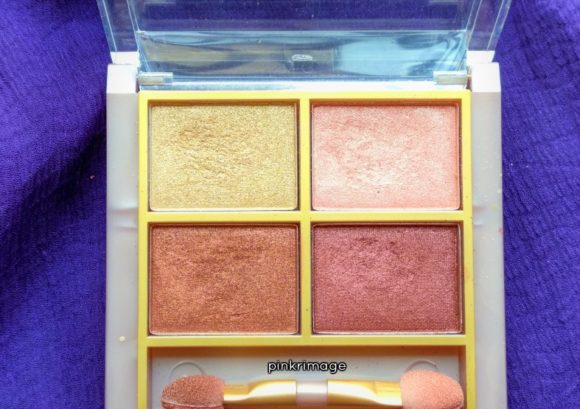 [button-red url="https://amzn.to/2CMABFQ" target="_self" position="left"]Check price on amazon[/button-red]
Shade 3: 
(down right)
Just below the pink shade lies the darkest shade of the quartet. It is a brownish shade and the only shade which shows up well. However, on my eyelid, it looks sort of unflattering.
Shade 4:
This is a copper color which is meant for the crease. This is the only shade I like in this quartet but when it is blended with the brown, the latter always takes over.
The smudge brush:
The applicator is pretty good and can definitely be used. I have tried using both the sponge applicator as well as my own brushes and the color payoff is the same.
Lasting power:
I wore these for eight hours straight without any creasing or fading. I used an eye primer but even without it, these easily last for five to six hours without any patchiness.
Removal:
Any good makeup remover. Just make sure it is meant for the eye area.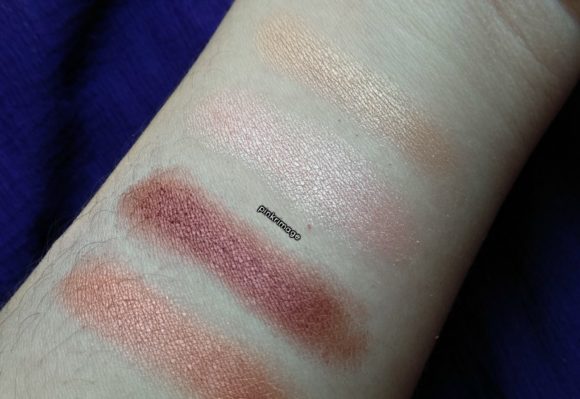 To sum up,
Pros of Lakme 9 to 5 Eyeshadow Quartet Desert Rose:
Affordable

Easily available

Smooth buttery texture

Comes with a decent applicator

Great lasting power
Cons of Lakme 9 to 5 Eyeshadow Quartet Desert Rose:
Ingredients not mentioned

Very poor pigmentation

Only one out of four colors work.

Lots of fall out

Colors don't show up against dark eyelids. An eye primer is a must.

Only wearable by the night on special occasions.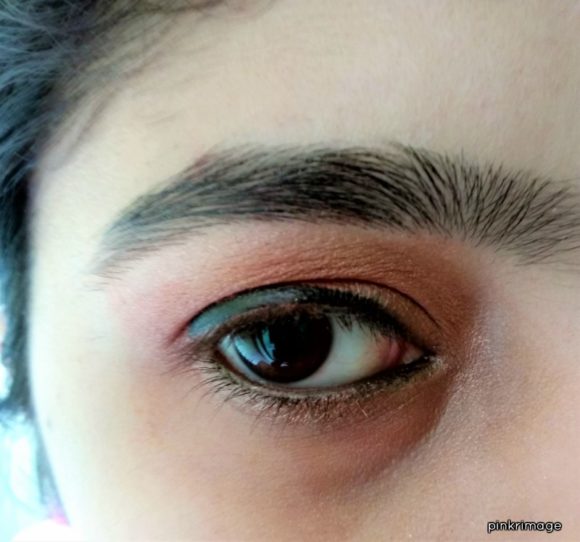 Would i recommend/repurchase:
No. I will not buy Lakme 9 to 5 Eyeshadow Quartet Desert Rose again and I do not recommend. I have heard rave reviews about the smoky glam quartet from this range and will give that one a try.
Rating:  
2 out of 5
Price:
Rs. 650
Where to get it:
Nykaa, Amazon or your local store. Nykaa offers good discounts occasionally so if you want to purchase the palette, you can buy it online.
So this was my review of the Lakme 9 to 5 Eyeshadow Quartet Desert Rose which did not live up to the hype. Have you tried these quartets? How was your experience?
Written by: Shreya Bhattacharyya