We buy tonnes of makeup every year but do we pay any attention to how to keep that makeup organized? An organized makeup drawer looks pleasing to the eye and you do not need a very expensive dresser to keep your things in place. You can always invest in a beautiful makeup organizer that not only keeps your makeup organized but also makes it easy to take out a particular product. These organizers come in various designs and are made up of a see-through material to make it easy for you to grab your makeup on the go if you are in a hurry. We have made a list of the ten best makeup organizers available online that will transform your makeup vanity area in a jiffy.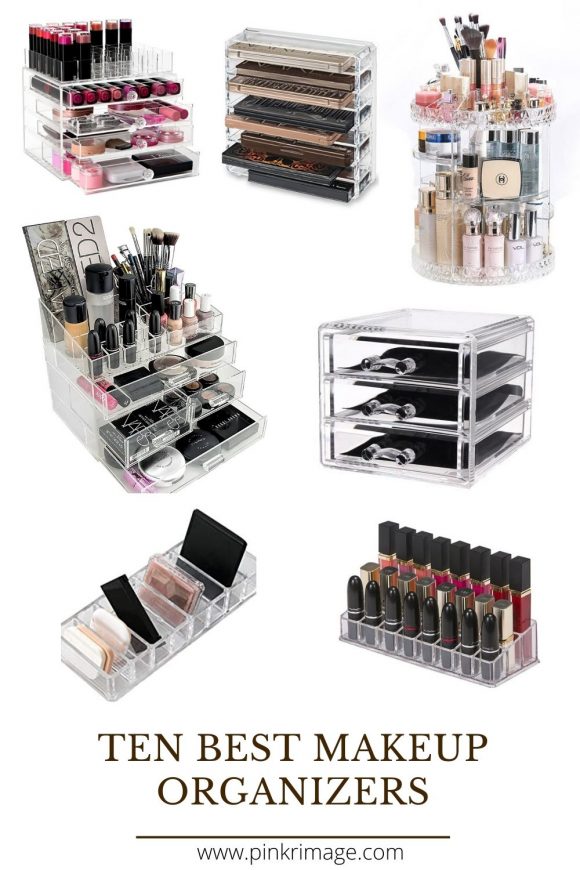 1. AmeiTech Makeup Organizer 
A perfect organizer for people who love to hoard makeup, the AmeiTech organizer has a 360-degree rotating design for easy access to all products.  It is quite easy to assemble and come with adjustable shelves for customizing the organizer as per your preference. It is also quite compact and does not take a lot of space on your makeup shelf.  The organizer can fit up to 30 skincare and makeup products in addition to 50 makeup brushes. It is a bit expensive but is available at a discount online.
Check price on Amazon
2. 
Sorbus Cosmetic Makeup and Jewelry Storage Case 
Available in two variants, the Sorbus makeup organizer has a sleek design and is available in 7 color variants including a clear variant. the lower drawers are good for keeping eyeshadow palettes and other bigger products while the top shelf is suitable for keeping lipsticks and makeup brushes. The drawers are deep enough for convenience and come with handles with grip for ease of access. The price of this organizer is a bit high but the quality makes it worth the price.
Check price on Amazon
3. 
Maxkim Makeup Organizer
A classy white makeup organizer that keeps your makeup in place, the Maxkim organizer is available in five variants and can also be used for keeping your jewellery. It comes with beautiful details and the crystal knobs on the drawers add a classy touch to the organizer. The drawers come with fleece lining inside to protect your makeup from scratches. The top shelf is good for keeping eye makeup and brushes. The size of the drawers is a bit smaller as compared to other makeup organizers. The price is reasonable and there is a clear version available as well.
Check price on Amazon
4. Ganchun 
Makeup Organizer
Designed like a small cute suitcase, the Ganchun makeup organizer comes with a transparent dust proof lid and is made up of high quality plastic that is sturdy and lightweight. The organizer comes with two main compartments which can be separated and used together as well. The drawers have silicone handles which make it easy to pull them out.  The lower compartment is also divided into two parts for better organization. The price of this makeup organizer is moderate.
Check price on Amazon
5. 
Miserwe Makeup Organizer 
A mega makeup organizer with 7 levels, the Miserwe makeup organizer is for makeup lovers who own many products and want one tall makeup organizer to store them all in place. The 7 levels can be adjusted for height and work well for bigger bottles and can be assembled and disassembled in just a few minutes. The material is easy to clean and can be wiped quickly for removing stains. The price of the organizer is reasonable.
Check price on Amazon
6. 
Readaeer 360 Degree Rotating Adjustable Makeup Organizer
Fitted with a separate lisptick compartment, the Readeer rotating makeup organizer comes with a total of 18 compartments for keeping your makeup collection tidy and organized. It is fitted on a 360-degree rotating base so that you can access all your makeup products easily. The organizer is sturdy and can be assembled in just a few minutes as the pieces fit together easily. The price of this organizer is moderate but it is spacious as compared to other models available in the market.
Check price on Amazon
7. 
ZHIAI Cosmetic Jewelry Organizer
Available in two colours, black and pink, the ZHIAI cosmetic jewelry organizer comes with stackable and interchangeable drawers which are all of different sizes to accommodate different makeup products. The two square drawers in the bottom are good for keeping jars and round containers while the top 12 compartments can hold up to 20 lipsticks and eye makeup products along with brushes. The large compartments can be used to keep eyeshadow palettes. The price of this organizer is great as compared to other organizers of the same size.
Check price on Amazon
8. 
hblife Clear Acrylic Compact Organizer
A makeup organizer specifically designed for keeping blushes and compacts, this clear acrylic makeup organizer works well for compact foundations and MAC blushes. They keep all the cases well-stacked and make it easy to pick out the shade as the case is clear. You can use two or three of these 8-slot cases for organizing all your powder foundations, blushes, and compacts. The price is very affordable and the size of the organizer fits well in almost all vanity tables.
Check price on Amazon
9. 
Beeiee Makeup Organizer 
A great addition to any vanity table, this three-stack baby pink organizer is available in two colour variants and has a total of 13 compartments. The three large compartments are great for keeping makeup palettes and large products while the top shelf is good for keeping lipsticks and eyeliners. The durable PP material is easy to clean and the shelves come with a back padding to protect the products against damage. The price of the organizer is a bit high but the durability makes it last for years.
Check price on Amazon
10. 
Wowganiser Drawer Organizer 
More like an open tray and less of an organizer, this drawer separator will keep your makeup essentials in their designated place so that you can grab them easily while rushing through your morning makeup. This makeup organizer for drawers makes the drawers look less cluttered and comes with adjustable dividers so that you can adjust them as per your products. This drawer organizer package also includes transparent glue dots which will help keep the organizer in place. The price is moderate.
So these are the ten best makeup organizers that can help you declutter your makeup space and make it look more clean and tidy. These organizers will also help you access your makeup products easily without having to rummage through all the products. You can also make a DIY makeup organizer by searching on internet about makeup organizer DIY ideas. Once you see how decluttered your vanity table looks with these organizers, you will never switch back to the old arrangement again. They not only make it more accessible for you to find products but also make you spend less on similar products.
Do you use organizers to keep your makeup in place?