I have heard a lot of good things about Juicy Chemistry products and when I saw the Juicy Chemistry Cold Pressed Organic Castor Oil on Nykaa, I ordered it for adding it to my DIY hair masks as castor oil is said to promote hair growth and reduce thinning of hair.  This oil is also called "Arandi ka tel" in Hindi.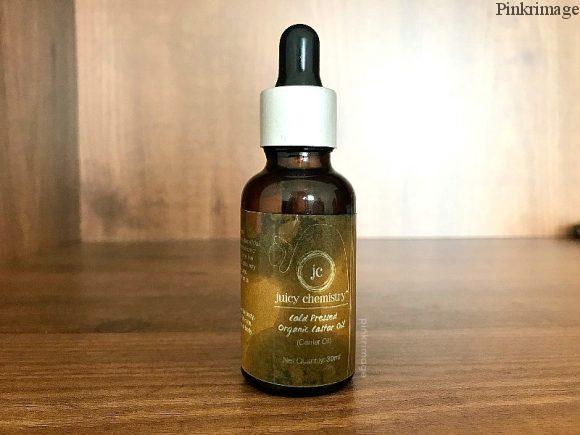 First of all, let me list down the advantages and multiple ways of using castor oil for skin and hair:
Benefits of castor oil:
It fights the early signs of aging and gives you soft and youthful glowing skin.
Regular use of castor oil heals cuts, burns, scars and acne spots.
It reduces pigmentation and prevents stretch marks if you massage the affected area regularly with the oil.
Castor oil is known to promote vigorous hair growth and controls scalp infections too.
It prevents premature graying and acts as a conditioner for the hair.
Castor oil is also used to enhance the thickness of brows and the length of eyelashes.
So these are some of the main benefits of castor oil for skin and hair. If you want to learn more about the benefits of tea tree oil, read The Body Shop Tea Tree Oil Review. This oil can be used in multiple ways and the most common way is to dip a cotton ball in the oil and apply it on the skin.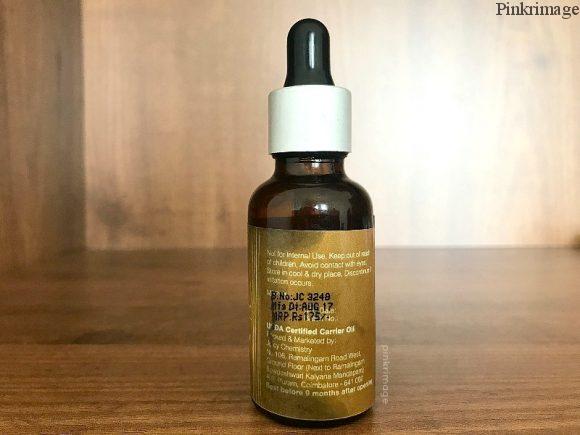 Review of Juicy Chemistry Cold Pressed Organic Castor Oil:
First of all, let me tell you that I have really thin hair. The thickness of my hair troubles me to an extent that I pray that my future children get their hair genes from their father. The Juicy Chemistry Cold Pressed Organic Castor Oil comes in a blue-tinted glass bottle with a black rubber dropper to take the product out. The oil itself is very thick in consistency and cannot be used on its own. It has a very faint fragrance. The oil is made up of 100% natural ingredients and is very pure.
I use this oil in multiple ways. I use it in my DIY hair oil masks mixed with The Body Shop Rainforest Coconut Oil and leave it overnight.  I am definitely seeing some hair growth and reduced hair fall. The thickness of my hair is also better than it was before.My hair feels and looks healthier and nourished. You can also mix some vitamin E capsules in this mask to make it even more nourishing.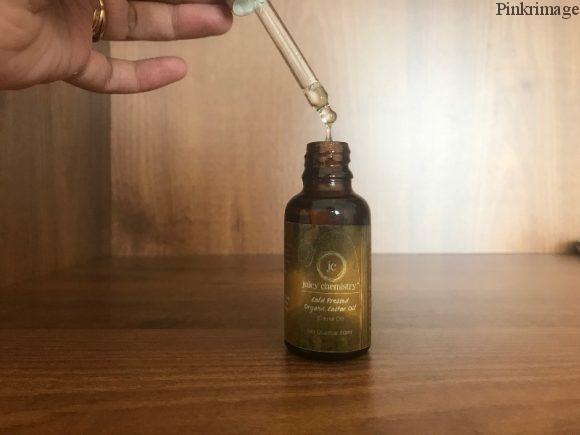 I also use this oil mixed with my night cream to nourish and heal my skin. I have seen a gradual improvement in my skin quality and blemishes are also fading slowly. I actually purchased this oil for hair masks only but its skin benefits really impressed me. I use one-two drops only for my skin as more oil can lead to breakouts if you have an oily or combination skin. I do not have any acne spots but I can feel my skin becoming softer day by day.
Overall, I am really liking this cold-pressed castor oil from Juicy Chemistry for my hair and skin and cannot wait to try the other products from the brand.
Price of Juicy Chemistry Cold Pressed Organic Castor Oil:
The price of this oil is 175 INR for 30 ml which is really affordable.
Where to buy Juicy Chemistry Cold Pressed Organic Castor Oil Online:
You can purchase Juicy Chemistry products online on Nykaa.
Have you used castor oil for hair growth? Which is your favorite way to use it?