I do not use a lot of highlighters but they are always a staple when we are dressing up for a special occasion or a wedding since they give a very beautiful glow to the skin and photograph well. My favorite highlighters have always been the Benefit Cosmetics highlighters but I wanted to try a drugstore highlighter and the Wet n Wild Megaglo highlighting powder Blossom glow made the cut since it looks so pretty and is one of the best drugstore highlighters you can find. You can read the detailed Wet n Wild highlighter review below: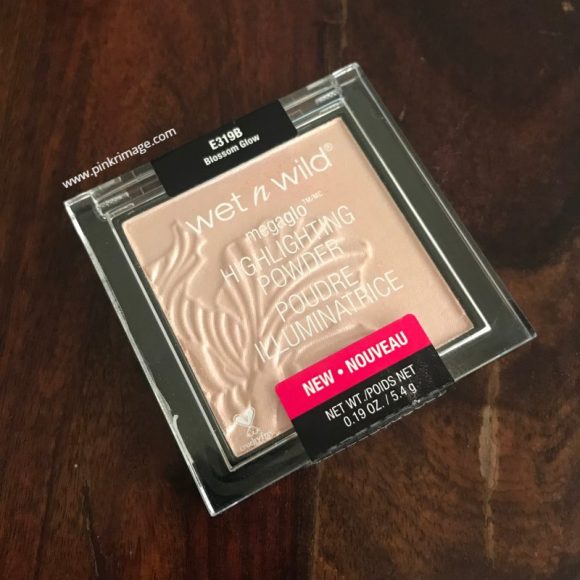 Wet n Wild Highlighter Review:
Wet n Wild Cosmetics is a cruelty-free brand which is known for its affordable makeup products which are great in terms of quality. This highlighter is known to be the best Wet n Wild highlighter if you compare all the shades.  The Wet n Wild Megaglo highlighter comes in a sturdy plastic packaging with a transparent lid. The quantity of the product is around 5 grams and the pan is fairly big in size so it won't finish soon as you only need a small quantity for every use.  Here is the detailed Wet n Wild highlighter Blossom Glow review: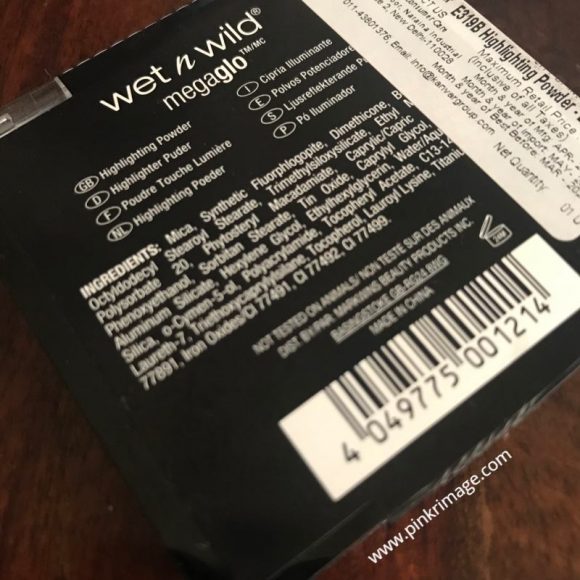 Shade description – wet n wild Megaglo highlighter blossom glow:
The shade "Blossom Glow" is a whitish pink highlighter shade with specks of gold. It looks too light in the pan but transforms to an absolute ethereal glow on the skin. It will suit pale skin tones and dark skin tones with blue undertones. It might not show up properly on medium skin tones or people with yellow warmer undertones.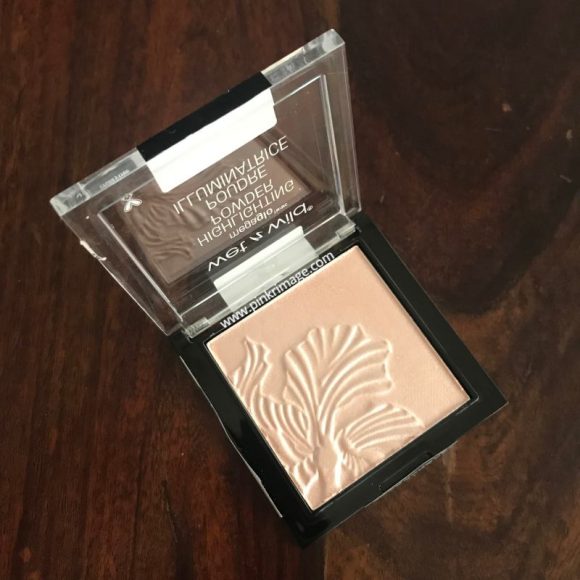 Texture:
The texture can be called smooth but it does not have a buttery smooth formula. There is a bit of grittiness but it does not look gritty or patchy on the skin. It blends well if you use the right brush. It might look too stark in the pan but looks rose gold on the skin.
Pigmentation:
The pigmentation of the highlighter is very good as just one swipe gives you enough product to use. You can build up the pigmentation from light to heavy depending on the requirement but with highlighters, less is more. It is important to apply it with a light hand using a highlighter brush to get the right results.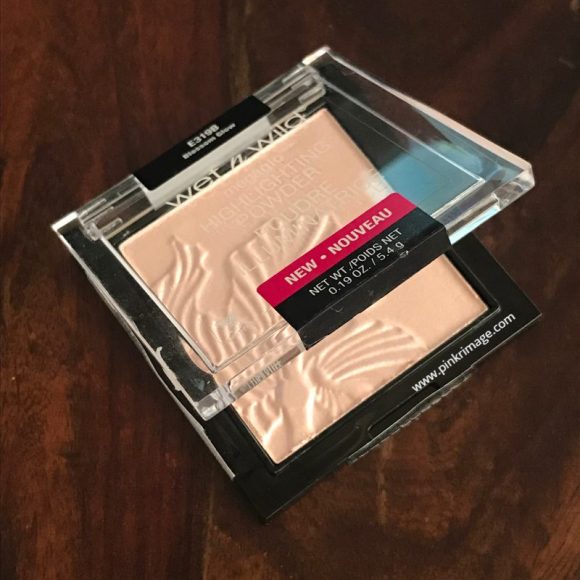 Swatches of Wet n Wild Blossom Glow Highlighter:
You can check the Wet n Wild highlighter swatches below to check if it will suit your skin tone.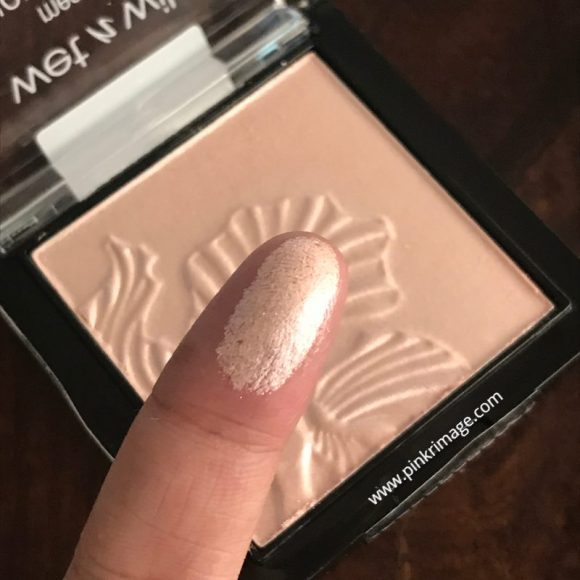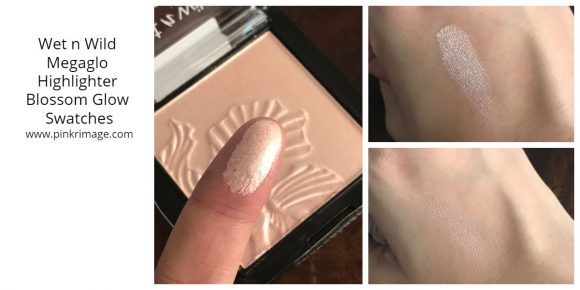 Staying power:
I have a combination skin type so the staying power of the highlighter is slightly reduced. It stays in place for 4-5 hours after which it fades evenly. With a primer, it stays for 7-8 hours.
Price: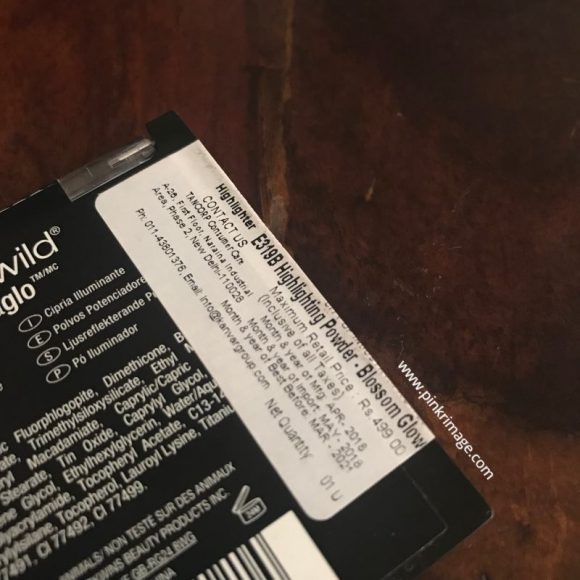 Wet n Wild megaglo highlighter price
The price of the highlighter is around 499 INR which is approximately $5. 
Pros of Wet n Wild Megaglo highlighter Blossom Glow:
» It is a very affordable highlighter and is the best drugstore highlighter for Indian skin.
» The texture is smooth and blends well into the skin.
» The shade has a rose gold tinge and is suitable for fair and dark skin tones.
» The product quantity is good and small quantity goes a long way.
» The staying power of the product is 7-8 hours.
Cons of Wet n Wild Megaglo highlighter Blossom Glow:
× The shade will not suit people with warmer skin tones.
You can buy the highlighter online or through stores.
[button-red url="https://amzn.to/2PLUZdc" target="_self" position="left"]Check price on amazon[/button-red]
So this was our detailed Wet n Wild highlighter review of the shade blossom glow. It is one of the best drugstore highlighters and looks beautiful on the skin. It is quite affordable and an absolute must-buy in my opinion if you want a natural glow. 
Hope you enjoyed this review and please share your thoughts in the comments if you have used this product before. Do you want us to compile a post on best drugstore highlighter 2018 with products similar to the Wet n Wild glow highlighter?