Hello pretty ladies! Today I'm reviewing the Gigi Hadid Maybelline New York FIBER MASCARA – BLACK. This product hails from the recent Gigi Hadid Limited Edition Collection that created such buzz in the U.K., it got sold out within 90 minutes of its launch! Naturally, I was eagerly awaiting its launch in India. The collection is divided into two ranges – the East Coast Glam Makeup and the West Coast Glow Makeup.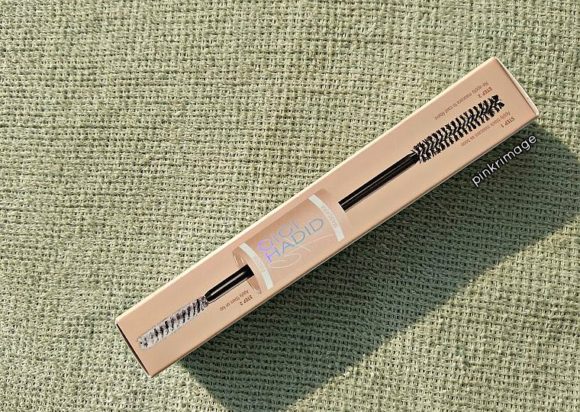 Usually, a brand launches a new collection and gives it a celebrity's name without even engaging him/her in the actual process. He or She has no real information of what's going into the products or what exactly the shades are. Hence, Gigi Hadid being personally involved in the making of all the products in this range is a welcome change.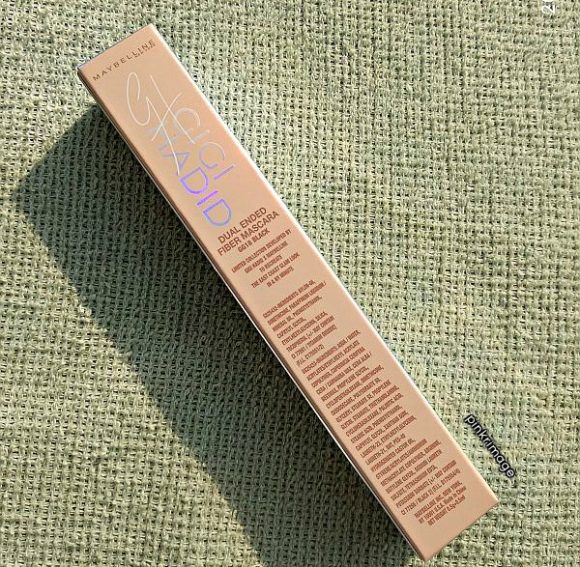 All the products come in matte, rose gold colored packaging which looks super cute. The mascara I bought belongs to the East Coast Collection and is a dual ended mascara. L'Oréal Paris also launched a fiber mascara recently but that one's double the price. I have always liked Maybelline's mascaras but this one proved to be the best of the lot. I wish they would make this one a regular.
LIST OF PRODUCTS IN THE GIGI HADID MAYBELLINE RANGE:
Matte lipstick (6 shades)

Gel liner (black)

Liquid liner (black)

Brow Pencil (2 shades)

Fiber Mascara (black)
There are other products in this range too but they are yet to launch in India. Word is, palettes and primer will be launching soon so keep an eye out!
NET WEIGHT:
0.5g (fiber) + 0.5ml (mascara)
WHERE TO GET:
You can get Gigi Hadid Maybelline New York Fiber Mascara on Nykaa or your local store. Since it is a limited edition, stocks will get sold out quickly so make a purchase soon if you want to try this mascara.
PRODUCT DESCRIPTION OF GIGI HADID MAYBELLINE NEW YORK FIBER MASCARA: 
Maybelline New York introduces a limited edition collection designed and curated by Gigi Hadid. Now get Gigi's gorgeous lashes with the limited edition dual-ended fiber mascara for instant length and volume! Gigi Hadid Dual Fiber Mascara coats on dramatic length and volume for an irresistible and eye-catching look. Bring on an effortless Glam look with this Maybelline Gigi Hadid Fiber mascara.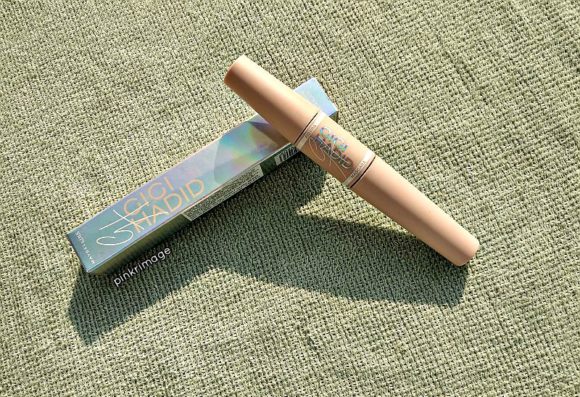 FEATURES:
Dual-ended mascara with fibers on one side and mascara on the other.

Creates long, supermodel-ready lashes just like Gigi Hadid.

Gives gorgeous length and a volumizing effect.

Coat the lashes in a jet black color, and swipe on the loose fibers to help build a dramatic length.
HOW TO USE:
Curl your lashes.

Take the mascara end of the tube and sweep inner lashes in an upward and outward motion from the root to the tip.

Take the fiber end and swipe them on to your lashes while the mascara is still wet.

Let the fibers dry a little otherwise they could get clumpy

Reapply the mascara again and let dry completely.
INGREDIENTS:
A long list of ingredients is mentioned that you can check out in the picture below.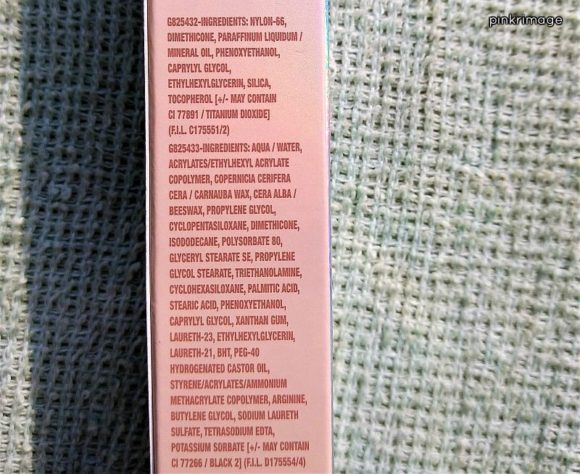 MY EXPERIENCE:
Packaging:
I have never seen such beautiful packaging from a drugstore brand. It consists of a beautiful rose gold paper box with a rainbow effect on top. The actual mascara tube is also a matte rose gold with two ends – one for the fiber and the other for the mascara. Both the outer box and the tube has Gigi Hadid's autograph on it.
The Mascara:
The Gigi Hadid Maybelline New York Fiber Mascara is jet black in color and quite creamy. It applies smoothly on to my lashes and dries quickly. I do not use an eyelash curler very often so I am always in search of mascaras that can curl my lashes sine qua. This one does its job well in that area and is one of the best mascara for short lashes.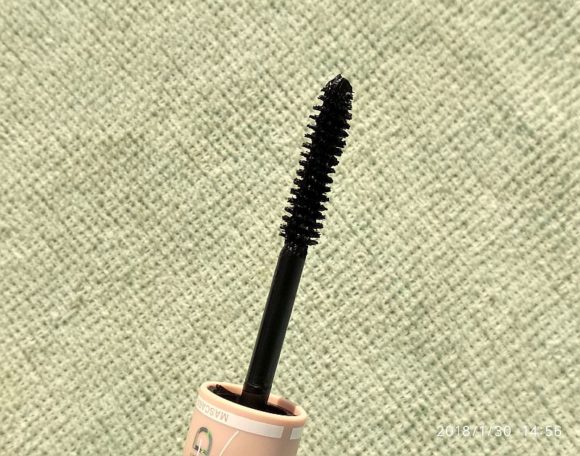 The Fibers:
The grey strands are loosely placed and could fly off everywhere if your surroundings are windy. Applying them can be a little tricky as these tend to be clumpy. But once you get a hold on the application, they work miracles! Along with the mascara, the fibers add volume to my lashes almost giving it a falsie effect. I do not like to apply false lashes so this serves the purpose completely.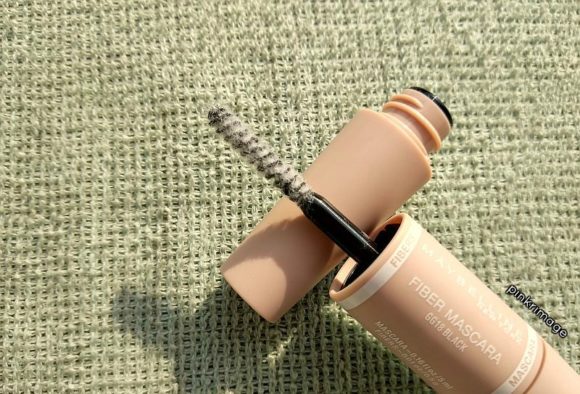 Lasting power:
I wore this once to work and it stayed put until I removed it myself. That should be approximately 8 to 9 hours which, according to me, is decent.
Removal:
This is not a waterproof mascara and comes off easily with any water-based makeup remover.
Summing up,
PROS OF GIGI HADID MAYBELLINE NEW YORK FIBER MASCARA:
Super creamy

Jet black color

Works great without eyelash curler

Along with the fibers, it gives super volume to the lashes

Good alternative for other fiber mascaras which are way too expensive
CONS OF GIGI HADID MAYBELLINE NEW YORK FIBER MASCARA:
Price is a little steep for a mascara.

Tends to be clumpy if the fibers are not dried properly.

Being a limited edition collection, the quantity should have been better.

PRICE: 
Rs.699
WOULD I RECOMMEND/REPURCHASE:
Well this is a limited edition collection, so I am not sure if it will still be around after I have finished the current one. But if it is, I will definitely buy. If you already have a mascara which produces satisfactory results, you can give this a miss. For others, hurry while stocks last!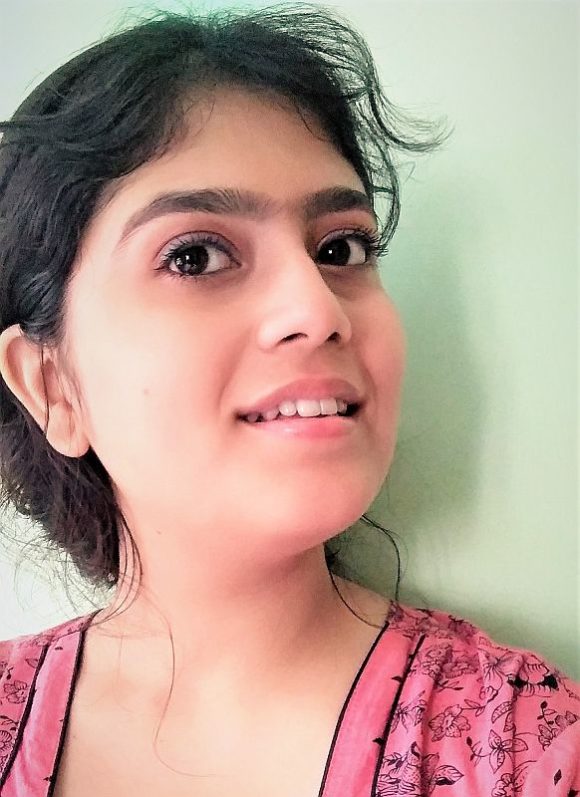 RATING:  4.8 out of 5
Written by: Shreya Bhattacharyya