Hello everyone! After the debacle of the Lakme eyeshadow quartet, I am back with yet another eyeshadow palette, this time from Faces. The Faces Ultime Pro Eyeshadow Palette belongs to the Ultime Pro range and comes in two varieties – Rose & Nude, each containing ten shades. I shall be reviewing the rose palette today which contains 10 suitable eye shadow for brown eyes.
PRODUCT CLAIMS:
Faces introduces a stunning eye shadow palette with universally flattering and prettiest Rose gold shades that allow you to achieve subtle to metallic, bold eye looks easily. These richly pigmented, smooth eye shadows in the range of beautiful shimmery, mattes textures are available in 10 beautiful colours right from shimmery golds, silvers, corals to subtle matte berry, browns, beige colours that inspire various day to evening, sultry and glamourous looks each day!
Richly pigmented shades having

intense colour

pay-off.

Available in

variety

of

colours

and textures that inspire versatile beautiful looks each day.

Highly blendable shades ranging in lovely shimmery, glittery and matte textures.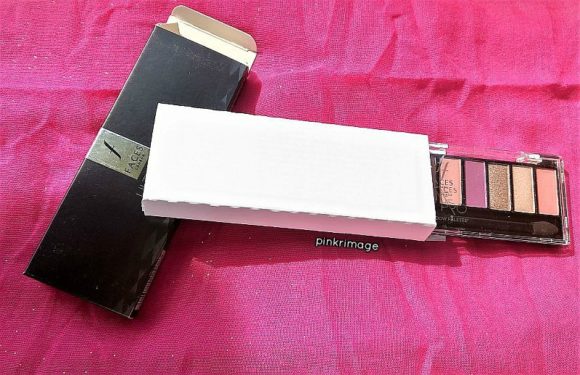 HOW TO USE:
Prep and prime your eyes.

Use the sponge applicator to line your crease in short sweeps. You could also use a tapered eyeshadow brush instead.

Apply the darkest shade nearest to your eye.

Use the lightest shade to highlight your eyebrows

Blend with the applicator or fingers or an angular blender brush.

These fall out a bit, so keep a fan brush handy.
INGREDIENTS:

WHERE TO GET IT:
Nykaa, on faces website or your local store.
MY EXPERIENCE WITH Faces Ultime Pro Eyeshadow Palette:
Packaging:
This one comes in a classic black cardboard packaging inside which lies the sleek palette. It is made of plastic with a clear lid making all the shades easily visible. It is fragile though, so you need to be careful. Mine got broken easily so I would say it is not travel friendly. It also contains a sponge brush applicator but does not have any mirror. Overall, I am a little disappointed with the packaging.
Texture and pigmentation:
The texture is smooth, silky and glides on easily. Some of the shades are pigmented better than the others and due to this, the pigmented shades take over the less-pigmented ones when blended. This is a small issue for me as I like the colours to show separately. So, I usually apply one colour on my eyelids and not a mix of three or more.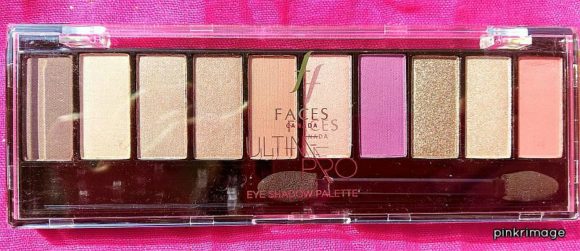 Shades with good pigmentation:
(from left to right) numbers: 2,3,4,5,6
Shades with less pigmentation:
(from left to right) numbers: 1,7,8,9,10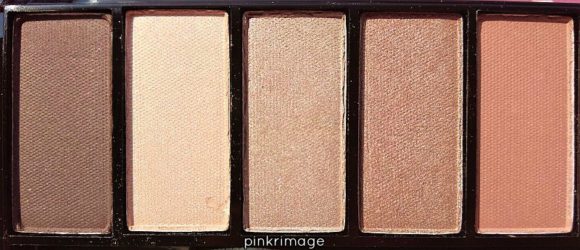 Colour:
The colour payoff is good for the shimmer shades although the mattes are a letdown. I think the mattes were meant to be for light makeup but they are not very useful even for that purpose. If you blend these shades, they disappear completely. Only, the dark brown matte shade (no. 1) is good as eye shadow for brown eyes.
Shades I like:
Shade 1 – This is a beautiful brown shade (matte) which is perfect for the crease.
Shade 8&9 – I absolutely love these two shades and use them a lot. Being shimmery, they add lots of spunk and glamour to the eyes if you are going for a rose gold eyeshadow look. You can also use shade 9 in the corner of your eyes to widen them.
Shades 2& 10 – The first one, I use as a base and the latter, to highlight my eyebrows. Both of them have light pigmentation but do their work well.
Shade that I don't like:
Shade 3,4,5,6 (mattes) – These have bad pigmentation, don't show up at all and can only be used as bases. I use shade 2 as a base so these are practically useless for me.
Shade 7 – This one has the highest pigmentation. So much so that it takes over any other colour that I put on my eyelids. I like purple shades but this one is just too overwhelming. I cannot work with it when I want only a hint of it on my eyelids because it always becomes the most prominent shade. You can see in the swatches how my eye has turned all purple after using this shade!
The smudge brush: The sponge applicator is decent although I always use brushes for applying eyeshadow.
Lasting power:
The palette scores well in this area. It stays for 8-9 hours without any primer. Needless to say, if you use an eye primer, this will stay longer.
Removal:
Any good eye makeup remover takes it off.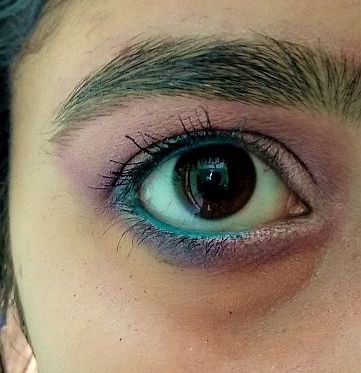 Summing up,
Pros of Faces Ultime Pro Eyeshadow Palette:
Value for money

Good 

eye shadow

for brown eyes.

Matte and shimmer in one palette

Decent pigmentation

Great staying power

Colour payoff for some shades are superb

Blends easily
Cons of Faces Ultime Pro Eyeshadow Palette:
A little on the steeper side for a drugstore brand

Not travel-friendly; breaks easily

Some shades are useless

Fall out does happen

Without a primer, it might crease on oily lids

WOULD I RECOMMEND/ REPURCHASE:
This one is going to last long and I shall try something new afterward. But I do recommend the Faces Ultime Pro Eyeshadow Palette. This palette loses some brownie points in a few aspects but gains in others. You can check out some other best eyeshadow palettes for brown eyes here. If you are looking for a palette with rosy nude shades that you could wear to the office or casual outings or if you want to create a rose gold eyeshadow look, give this one a try.
PRICE: 
Rs.999 for 10 gm.
RATING:
3.5 out of 5
So this was the faces eyeshadow palette review. Have you used the Faces Ultime Pro Eyeshadow Palette?
Written by: Shreya Bhattacharyya