Today i was just looking at my Limeroad scrapbooks and thought i would share with you guys the looks i created. The two looks suit everyone's budget as first look is a bit expensive but totally worth it and the second look is for those on a budget! The first look is a tropical club look which has colours and accents take stand out wqhen you attend summer brunches and beach parties!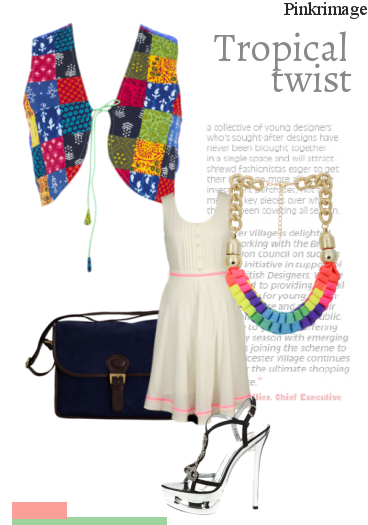 The whole look Costs around 7830 INR  and the individual Items are listed here:
The white pleated dress can be bought here– 2199 INR
The multicolored jacket can be bought here– 699 INR    
To keep up with the theme and the stunning jacket, i also kept the necklace fun and colorful!
Bright about now necklace– 799 INR buy here.
I kept the clutch and the heels monochrome since i wanted the jacket and neckpiece to do all the talking!
Midnight blue suede slingbag –2900 INR here.
I love these heels. Stunning Seethrough Heels– 2099 here.
You can also choose any solid black clutch and heels to keep this look in your budget. The major cost in the look is from the heels and the bag.
The second look is a plain classic jumpsuit with sky-high heels and minimal accesories. Jumpsuits look really classy and fun at the same time. This look can be worn in the late evenings and night-outs. You can also replace the heels with strappy sandals to tone down the look.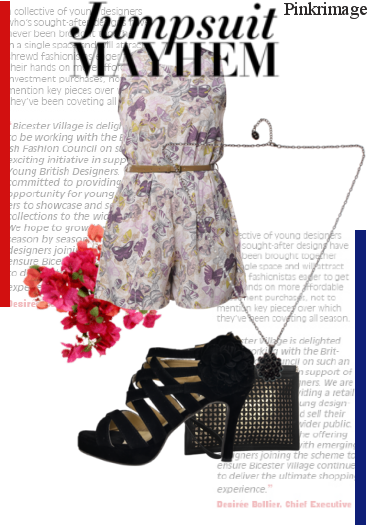 The whole look is for 4050 INR. Individual pieces are listed below.
The butterfly print jumpsuit- 1299 INR can be bought here.
Black suede heels- 799 INR here.
I kept the accesories minimal…
Black pendant necklace–399 INR here.
persian black clutch– 1999 INR 
This clutch is my absolute favorite from all these items since it has a persian detailing on the front which looks really pretty!
Hope you liked the looks i created. Will soon get back with some more of my scrapbooks!