They say, life isn't perfect but makeup can be. Sounds intimidating? For a beginner, it could be. There is always that time when your foundation doesn't match your neck, or your concealer creases just before the perfect selfie or your wing isn't as sharp as you want it to be. Girl, don't be upset for you're not alone! Even the best of makeup artists and your favorite beauty bloggers make mistakes. But their secret to achieving flawless makeup lies in a lot of practice and of course, MAKEUP BRUSHES. We have compiled the ultimate makeup brush guide for beginners which will help you choose the right brushes within your budget.
THE ULTIMATE MAKEUP BRUSH GUIDE FOR BEGINNERS: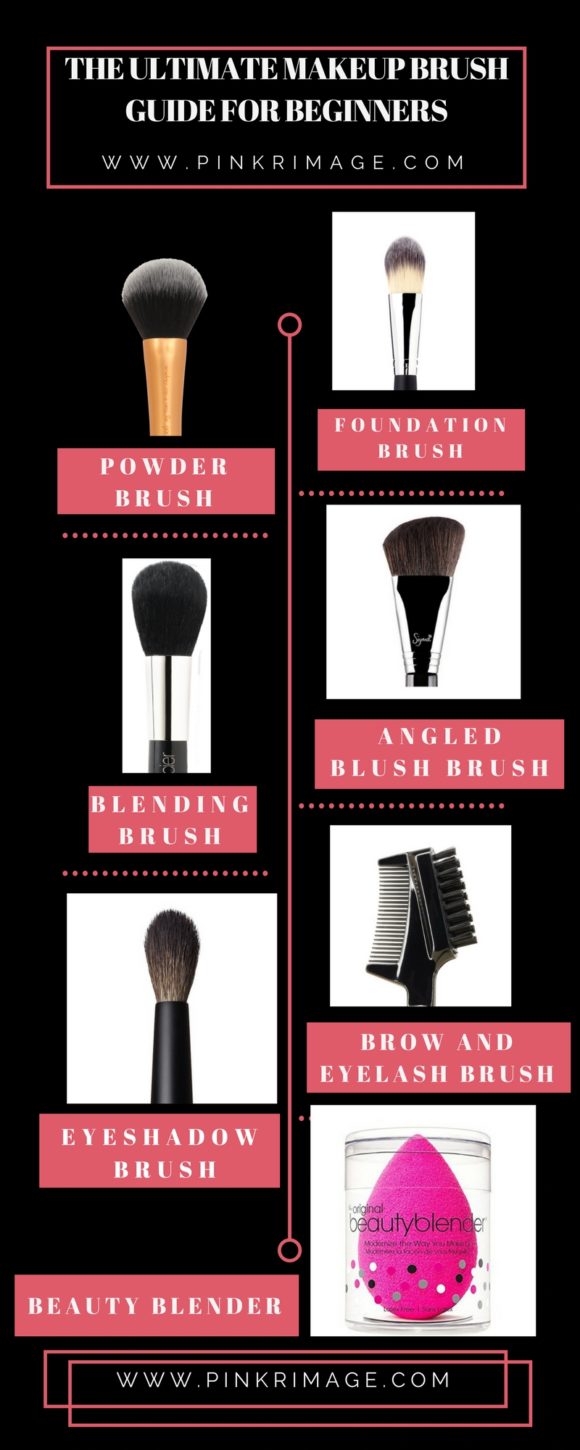 CHECK OUT THESE BRUSHES ON NYKAA
Buying the right brush can be confusing. A good brush is one which feels soft on the skin and does its intended job without any fuss and flurry. When I set out to buy my first brush, the various types and brands left me dazed. I got home with a lot of brushes but then found most of them to be useless. That you don't repeat my mistake, here's a basic makeup brush guide for beginners to help breeze through these charming tools.
BEST MAKE UP BRUSHES FOR BEGINNERS – TOP 5
The Foundation Brush: This is a round, soft brush with a flat top. Used for liquid or cream foundations, this ensures you pick the right amount of product. Take some foundation onto the back of your hand, run the brush through, holding it like a pencil and apply it to your face starting from the center towards your hairline. Oh, and don't miss your neck!
The Powder Brush: The biggest brush you spot on any counter is a powder brush. This one is also round but fluffier and softer than a foundation brush. Generally, this should be used to dust loose powder over your face and neck. However, it can be doubled up as a bronzer and blush brush, thus making it an absolute essential. As this brush picks up a lot of product, remember to dust of the excess by tapping it on your wrist.
The Angled Blush Brush: The way to nailing that colour pop on your cheeks leads to this one. Dome-shaped and slanted on one side, this brush makes it easier to concentrate the blush to the apples of your cheeks. It also works well for bronzers. Hold the brush at a forty-five degree angle from your face and smile while application to prevent the dreaded clown vibe.
The Brow and Eyelash Brush-Cum-Comb: Want killer brow arch? Or clumpy lashes make you avoid mascara? This brush works for both. Use the bristle side to groom the eyebrow hair into place for a bushy effect and enhanced arch. Alternatively, you can also use it to blend the previously applied brow colour. If you are applying gel, use this ahead. The comb is used to separate lashes. Run it through your lashes just after you have applied mascara to free them of clumps.
The Face Blending Brush/Eyeshadow Blending Brush: This small, fluffy tool is used to blend eyeshadows and highlighters. Run through any hard lines in the crease and corner of your eyes, brow bone or Cupid's bow and they disappear like a dream.
** Special Mention – The Beauty Blender: Although technically not a brush, this tear-drop shaped sponge has become ubiquitous in the beauty world, professionals and amateurs alike so it had to feature in our Makeup Brush Guide for Beginners. This is the go-to tool for all blending and sculpting needs. Just get one of these, and see your whole makeup come together in 30 minutes!
OTHER OPTIONAL BRUSHES:
For Face
Concealer Brush

Kabuki brush
For Eyes
Eyebrow brush

Eyeshadow brush

Angled brush

Fine-tip liner brush

Smudger brush

Spoolie
For Lips
Lip brush
For Contouring And Highlighting
Small angled brush

Itabake brush

Fan brush
BEST MAKEUP BRUSHES FOR BEGINNERS:
BEST PROFESSIONAL MAKEUP BRUSHES FOR BEGINNERS:
Now that you have a fair idea about which brushes to buy through this makeup brush guide for beginners, knowing the right brand is important as well. Most cosmetic companies sell their own range. So if you have a favorite brand, you can definitely get their brushes. However, like makeup, brushes from some brands are better than the others. Following are the best professional brands for makeup brushes available in India.
L.F Brushes: This is a high-end brand with their brushes being expensive. If you are someone who uses/will use make up every day, this is the right investment for you. You can get this on Amazon only.
Real Techniques: Their powder brush is versatile and simply great for beginners. You can get this on Nykaa or Amazon.
Mac: Mac has an extensive brush collection with a variety of options for pretty much every technique. The best mac brushes that you should definitely try are 239(eyeshadow brush), 217(blending brush), 187(duo fiber face brush) & 219(pencil brush). You can get mac brushes from Amazon, Nykaa or your local store, if there is one in your city.
Bobbi Brown: The blush brush from Bobbi Brown is hands down the best available today, thanks to its ultra-soft bristles and tapered round head. You cannot go wrong with this brush. You can get it on Nykaa, Amazon or at any Sephora store near you.
Sigma: Sigma brushes offer a great finish. The flat top kabuki brush, highlighter and small angled brush are my personal favourites from this brand. You can get this on Nykaa or Amazon.

BEST AFFORDABLE MAKE UP BRUSHES:
Most of us are on a budget when it comes to makeup. And brushes take the lowest spot in it. If spending 1000 bucks on makeup brushes is not your cup of tea, then here is a list of more affordable options from our makeup brush guide for beginners:
PAC: PAC brushes are made of synthetic fiber so they are quite soft on the skin. Their face brushes are good but I do not like the eye brushes from this brand.
Faces: They have recently launched a number of brushes which are cruelty free and very soft. Their eye brushes are a hit.
Konad: This is not widely available but you can get it on Amazon. Their foundation brush is really good.
Basicare: This is another affordable brand that makes decent brushes. All of the brushes are good for beginners. You can get this on Nykaa or Amazon.
The Body Shop: They have limited range of brushes which range from Rs.500 to Rs.1500.
Oriflame: The tapered eyeshadow brush from this brand deserves special mention. You can get Oriflame brushes from their representatives or on Amazon.
Colorbar: I do not like all their brushes. These are cruelty free, but not so soft on the skin. Their kabuki brush is good though.
Vega: One of the most popular brands, Vega has two ranges—one normal and the other professional. The former is pathetic; avoid it at all costs. The latter is good and has some great dupes for MAC. They are easily available online or at local stores. The only problem with these brushes is that none of them have proper names or numbers, so you must really know your brushes before buying.
BEST MAKEUP BRUSH KITS FOR BEGINNERS:
Building your own assembled collection can be super fun but if you are still a bit confused about brushes, you had better opt for Kits which include some of the best makeup brushes for beginners. Some of the best brush kits available in India are:
Mac Makeup Brush Set (set of 12 or 24)

BS-MALL Premium Makeup Brushes (lots of options all of which are good)

The Body Shop Mini Brush Kit (set of 5)

Tribeca Makeup Brush Set (set of 10 or 24)

Foolzy BR-3 Professional Makeup Brushes Kit (set of 12)

Puna Store Makeup Brush Set (set of 24)

Urban Decay Naked3 Cosmetic Makeup Brush Set (set of 12)

Basicare Cosmetic Tool Kit (set of 5)

Vega Brush Set (set of 7 or 9)
A FEW POINTERS
Try to buy synthetic brushes. They help in the precise application, don't trap makeup and are cruelty-free unlike brushes made of natural bristles.

If you have a lot of brushes, sort them out into two categories – face and eye. This keeps them organized and easily accessible in times of rush.

Always store your brushes standing upright in jars. You can fill the bottom of the jars with colorful stones, pebbles, or even rice so that the heads won't touch each other.

Never leave your brushes with makeup on (this includes your beauty blender). Clean them as soon as possible. Dirty brushes are breeding grounds for bacteria which can cause abominable infections.

If you do not have a brush cleaner, use baby shampoos to clean your brushes because they are mild and will keep your brushes soft as new.
There you have it, ladies, an ultimate makeup brush guide for beginners. With a good set of brushes, every woman can be an artist. So next time you go shopping, ignore that brilliant lipstick and get some magic wands!
Written by: Shreya Bhattacharya