As much as I love buying makeup off the counter as I really love feeling the packaging, swatching the product and getting it as soon as I pay and coming back to home with it, my hectic work schedule does not give me that liberty to spend hours in malls and makeup counters. This is where online shopping comes into picture. These days, online shopping is so user-friendly that you can clearly see all nuances of the product, be it makeup or clothes or jewellery, so closely and accurately that it is really comfortable and practical to shop within the comforts of your home. And what is better than getting amazing deals and discounts on your favourite products because let's face it; everybody loves a great discount! Today I am reviewing one such great coupons website where we can get a wide variety of coupon codes on so many brands that it's just impossible not to get tempted!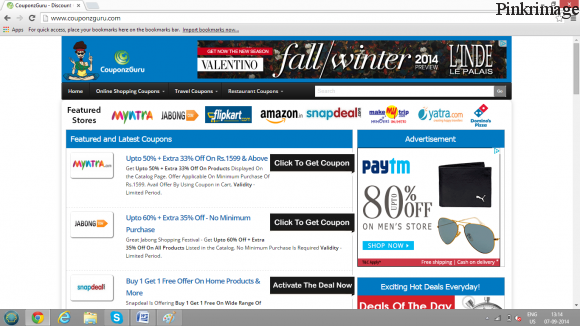 CouponzGuru is a coupons website which offers great deals and discounts on online shopping, hotel and flight bookings, food orders and more! It has partnered with the best online shopping sites in India like Jabong, Myntra, Fashion and You, Dominos, Zovi, Koovs and many more. The various categories of deals include:
1) Online shopping coupons
-clothing and shoes
-mobile & Electronics
-home and Furnishing
-Baby & Kids
-Fashion & Accessories
2) Travel Coupons
3) Restaurant coupons
My Experience with CouponzGuru:
CouponzGuru is one of the leading coupons website in India. The site itself is very user-friendly and the best deals and discounts are displayed on the landing page itself. You just have to select the website for which you want the discount codes and click on the code which will take you to the merchant website and you have to enter the code during checkout. There is no sign-up form or login required to use the codes which makes it very easy to work with. All the codes and deals have clear instructions and conditions so that there is no confusion. I particularly like the Coupons on fashion websites like Jabong, Myntra, Zovi coupons and Koovs coupons. One thing I loved about this website is that they have a great customer service and hassle free site. There is no confusion and even if there is, the customer support helps you with all they can. The foodie in me gets so excited seeing the BOGO offers on Dominos, pizza hut etc. For makeup lovers, there are websites like Nykaa & Purplle and also Jabong. One more great feature about this website is that they also have a detailed article about the particular website you selected as to what it offers and how to use the coupon codes and the best codes for that particular shopping website.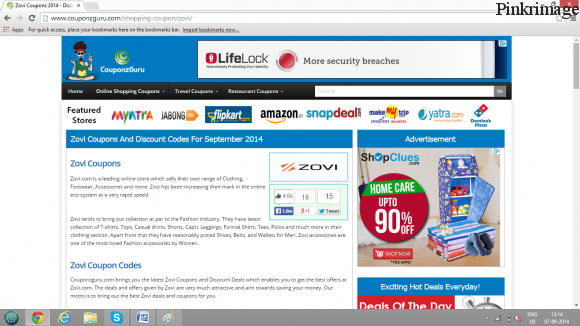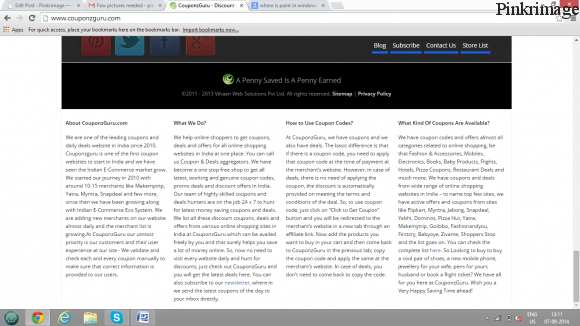 Overall, this is an amazing website for saving on your online shopping. It has something for everyone right from makeup addicts like me to foodies..again like me :P. It offers great deals on such a wide range of shopping websites. The site is user-friendly and super easy to navigate. It is a great way to strike some great discounts while shopping online.
Happy Shopping! 
* This is a sponsored post.