Rocky and Mayur have ventured out to explore food from all parts of India and curate videos on www.Askme.com. I'm contributing my part by relishing my favorite dishes at Jassi De paranthe and sharing my views with you all!
With this review, i am starting a new series on the blog. One of my favorite things apart from makeup..food!! And this series will have the best local restaurants of Ahmedabad being reviewed so that the next time you want to have a nice dinner date, you know which is the best place!
Jassi De Paranthe  has grown from a humble push cart to a chain of restaurants all over Ahmedabad. They have 5 branches currently. They even have their website with their menu and catering options.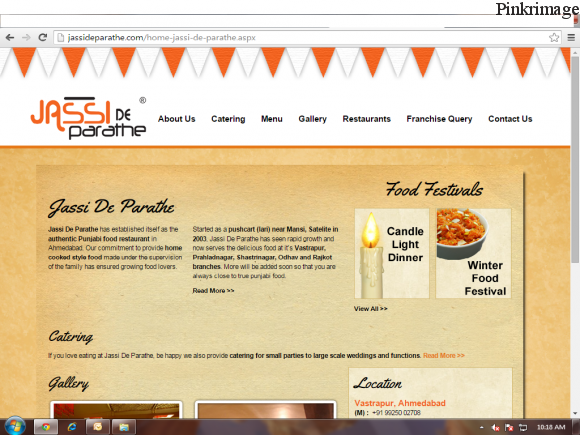 I went to the Prahaladnagar branch which is fairly new as compared to the vastrapur one. The restaurant is always brimming with people and the sad thing is they do not book tables! So the usual waiting time even on weekdays would be 30-40 minutes.
What i really love about this restaurant is the ambiance. They have a lovely dim lit cozy place with charpouys and candles. They also have regular chairs and tables for people who don't like to sit on the floor and eat.They have earthen walls and floor giving it a very village like feel. The decor is all done up with earthen lanterns and diyas.
Coming to the menu, this is a vegetarian restaurant. In case you wandered in imagining some kukkad shukkad, you will be heart broken! They have an elaborate menu which includes all things punjabi. They have "77" type of paranthas apart from the regular sabzi-roti and other accompaniments. Seventy-seven..can you imagine!!
The service is super efficient. You don't lose your appetite waiting for your food! We order a dal makahni platter and some paranthas with lassi and buttermilk. being a dessert person that i am, i had to order the gulabjamuns! The food was fresh and the quantity was good. If i have to say on the taste, being a Punjabi cuisine lover, i would give it a "good" but not great rating. If you want to go out with your family, sit in a nice ambiance and want to eat some authentic Punjabi food, you must come here. But in case you are a food critic and want nothing but the best taste, this place might disappoint you a little.
The quantity and price surely impresses you and you will not feel that you over-paid for any dish. The overall ratings are :
Ambiance: 9/10
taste: 7/10
Service: 10/10
Value for money: 8/10
Overall restaurant rating: 8/10